Ok - so after our day at the Magic Kingdom we spent the next day in EPCOT. Unlike the day before, it was extremely hot and muggy and our fresh feet weren't feeling so good anymore. BUT I was so anxious to see the big ball, aka Spaceship Earth, with my own eyes. And it did not disappoint. Its really cool and REALLY BIG!!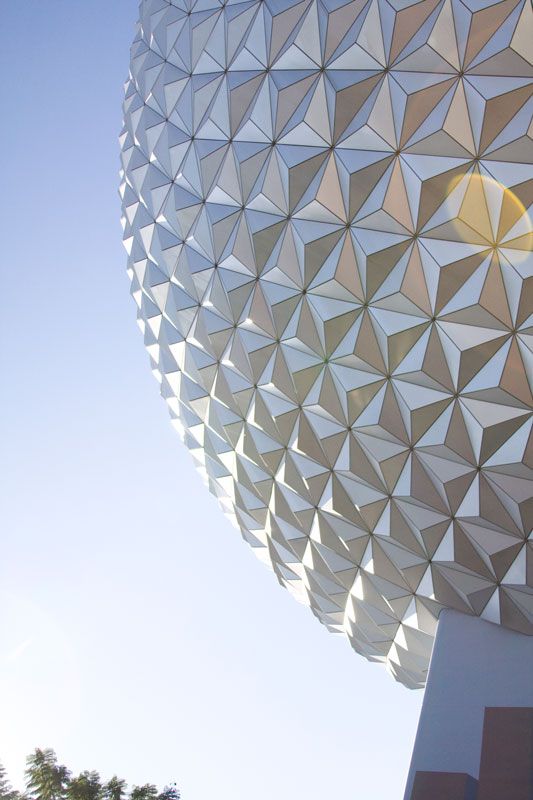 After enjoying the sights of the main entrance, we followed everyone's advice and made a bee-line for Soarin' to snag fast passes. The walk to "The Land" where Soarin' is seemed awfully long! Its situated so far away. And I'm sorry for anyone who loves "The Land" but c'mon. Tell me "The Land" really isn't just "The Mall".
We walked in and were super underwhelmed by the whole feel of the place. It's seriously a mall! There's shops, a food court, and back down in the very bottom corner hides Soarin'. One of the best Disney rides of all time.
I just hated that it was hidden at the bottom of this mall and that it didn't have a cool, neat exterior like the one at California Adventure. We got fast passes, but the wait time was only like 15 minutes, so we decided to just ride it while we were there since its far away and down at the bottom of the mall and all.
I've heard the queue has interactive screens or something, but we didn't see any of that. For us, the queue was very uninteresting and boring as well. We were just totally disappointed in everything pre-ride. BUT the ride itself was awesome!! And that's what really matters! It's exactly the same ride as the one at California Adventure. Although - it did seem sort of odd to fly home over to Disneyland at the end, even though we weren't there. I have to say, Soarin' at Calfornia Adventure is a much better experience as a whole. But at California Adventure its called "Soarin' Over California".
Oh well! The ride felt amazing!! We took our shoes off, as we always do, and it was really fun. There was a big group of elderly people riding it next to us and their SUPER loud commentary about everything made me laugh! If it would have been anyone besides cute old people talking that loud, I would have been super annoyed.
After Soarin', we had to get to our lunch reservations at Coral Reef.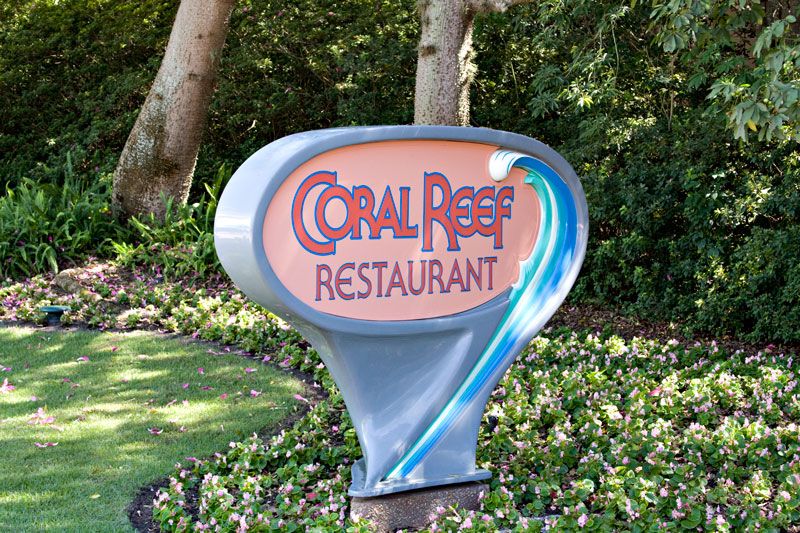 Coral Reef is located over at The Seas with Nemo & Friends. We were very hungry and after we gave them our name, we were taken right back down the very cool hallway with the sea urchin lights and beautiful sea glass walls to our table.
And our table was INCREDIBLE. I swear it was the best table in the house. We were facing the giant aquarium right in the front. The atmosphere at Coral Reef was incredible! It was dark and soothing and calm. I couldn't stop watching the fish, sharks, sea turtles, and sting rays glide past us in the aquarium. I was already lovin' "Coral Reef".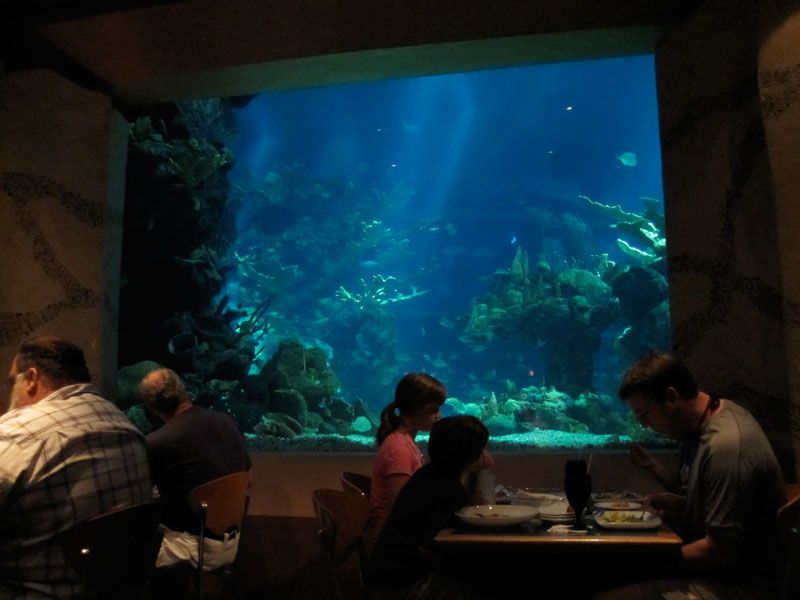 One thing I noticed about all the restaurants we ate at on our trip was how they keep the actual dining room a secret while you're in the lobby or walking by. So - its like a big SURPRISE and a fun reveal when you're actually being taken back to your table. It's quite fun that way!! You definitely get the WOW factor doing it this way.
Anyway - so we ordered yummy frozen blended smoothie drinks (included in our FREE dining plan too) and ordered our entrees. Coral Reef is mostly a seafood restaurant. You can really smell that right away when you walk in. But neither of us are seafood fans. But that was fine because they had yummy non-seafood items too. I ordered the short ribs and Josh ordered steak.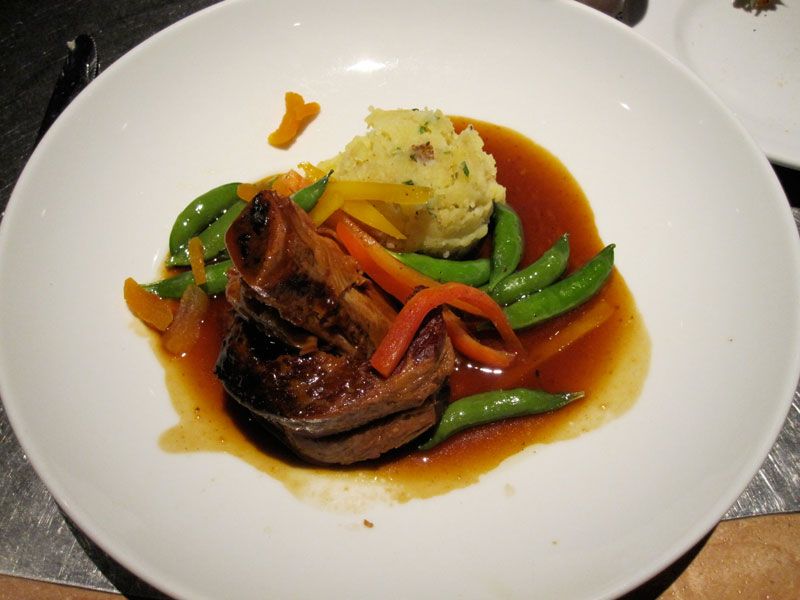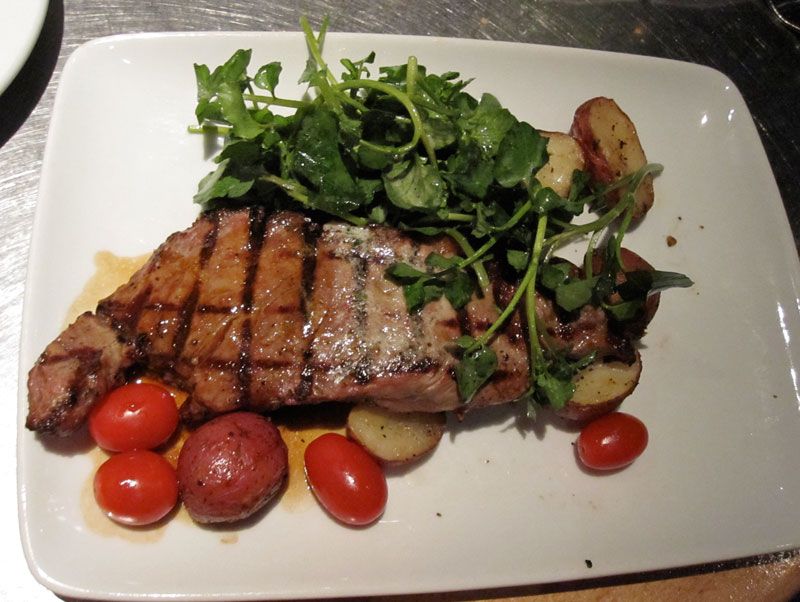 Our food was seriously AMAZING. We were just in heaven the whole time we ate! :) YUM YUM YUMMMMM!!! Two giant thumbs up! For dessert we both ordered Creme Brulee. It was both of our first experiences with Creme Brulle. It was pretty good! Not my favorite dessert of all time, but pretty yummy. Basically a fancy pudding with a crispy skin on top.
After our amazing meal, we went to ride the Nemo ride and explore "The Seas". At first I wasn't so sure I'd love the Nemo ride, but it won me over by the end!! The short lines helped too! We liked it so much we rode it twice. It was dark and cool and relaxing. And the cute song at the end was so fun!
Josh REALLY loved the Seas, especially the dolphin training demonstration we saw. We'd never seen dolphins swimming and training from underwater before. It was really neat! And they told us that the dolphins could totally see us, hear us, and they loved when we clapped for them, so not to hold back. A dolphin would come over and look at a Mickey head moving from side to side and then swim to the other side of the tank and put its head on which one of the Mickey's was moving on the other side. It was really cool!! then they would change the arrangement of the heads and do it again.
We loved seeing the Manatees and learning about them from the trainer there. And Turtle Talk with Crush was great too, of course. That's one of our favorites to do a California Adventure. We didn't even know they had it at Epcot, so that was a nice surprise! The Seas was VERY fun. Like going to a SUPER cool aquarium!
Spaceship Earth. LOVED this ride. I know some people probably think its sort of boring and lame. I don't know why but I really loved it. The whole ending with the personalized video/quiz was such a fun surprise! HAHA WE really really loved riding it. And how fun to be inside the big ball!! We liked it so much we rode it again on our second day at Epcot!
Mission Space was our next stop. What a fun ride!! We went for the "intense" version because neither of us get sick on rides normally. It was a ton of fun. I was a little stressed when I found out I had an actual "role" in the mission and had to complete tasks, but it was easy and fun! I have no idea what happens if you don't complete your task! haha The other guys we were in the mission with all did their tasks quickly too. But I guess Josh started to get barfy toward the end of the ride and was really relieved when it was over. I was feeling fine until I got up to walk out. I was SUPER DIZZY and all of a sudden got a little sick to my stomach as well. We found a nice shady spot near the exit and had to have a sit and wait for the barfiness to pass.
We wanted to ride Test Track next, but it had broken down. So we were off for the World Pavillion.
First up - Mexico. I thought the temple was VERY cool. Josh just barely took an Mayan history class, and I think he was trying to be nice and not make a big deal about the inaccuracies he noticed. I don't know how, but we got out of Mexico without a single photo. I think the heat was making us hurry from one attraction or building to another and not stopping to take a lot of time to snap photos.
The Mexico ride. Waaaa-wahhh. Boring. The boat, so uncomfortable for people with long legs like us. And I just wasn't feelin' the outdated movies and whatnot. It was a little funny. I do love the Three Cabalaros. And the music was kind of catchy. But mostly, we weren't thrilled. :)
We were quick to move on to Norway. Ok I just have to stop here and say how surprised I am that Norway has its own pavillion. Of all the countries, Norway just seems so random!! haha BUT all the Norwegian cast members were super nice. We got some ice waters from the little eatery there and the CMs were talking to each other in what I have to assume is Norwegian, but Josh is convinced they were just making it up to be funny.
For any of you who gave us the advice that you can get free ice waters from any quick-service restaurant. THANK YOU. That was the BIGGEST HELP. Carts and places like that can't give it to you, but any quick-service place usually will. (We only found 1 place that gave us a hassle about it - in the France Pavillion at the Bakery. They were totally snooty French CMs!!) We had to stay hydrated and getting ice cold BIG cups (not some kidding cups, but like large soda cups) full if ice and water was the BEST. We did this again and again and again all throughout our trip. You don't even have to wait in line. You just walk up to the counter and ask someone and they give it to you. Most places even went out of their way to get them for us in a hurry!! SO AWESOME!
Ok - back to Norway. Loved the buildings, love the atmosphere. Everyone was telling us we HAD to ride Maelstrom, so of course we did. What a bizarre ride. Trolls, spells, magic, off shore oil rigs, giant Polar Bears. What a trip!!! We were laughing at the whole bizarre thing! hahaha
The movie afterwards scared the crap out of us at the beginning, and then I couldn't trust the rest of the movie and just enjoy it because I was afraid it was going to scare me again!!
And of course I made Josh don a Viking helmet and take a picture with the giant troll in the shop just outside the ride!! HAHAHA
Look how my helmet has blond braids! HAHAH So awesome.
Then we traveled from Norway to China! First stop - was to use our snack credits on our dining plan to get some Pork Pot-stickers from one of the Food & Wine Festival booths. I am still dreaming about those pot-stickers. I could eat a dozen of them! YUMMMMMM
The acrobats were performing when we first walked up, but it was way too hot to sit out and watch them and there were a bazillion people gathered around, so there was nowhere to get a good view either. Instead we explored the shops and I was this close to buying an umbrella. They were gorgeous.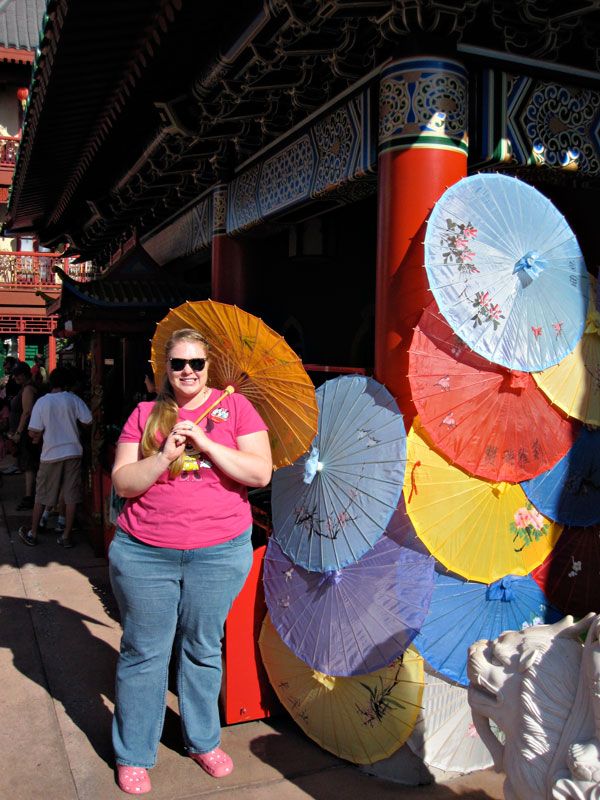 Then we turned a corner and my BFF Mulan was just sitting there waiting for me with no one around her at all!! I had to get a picture with her and say hello!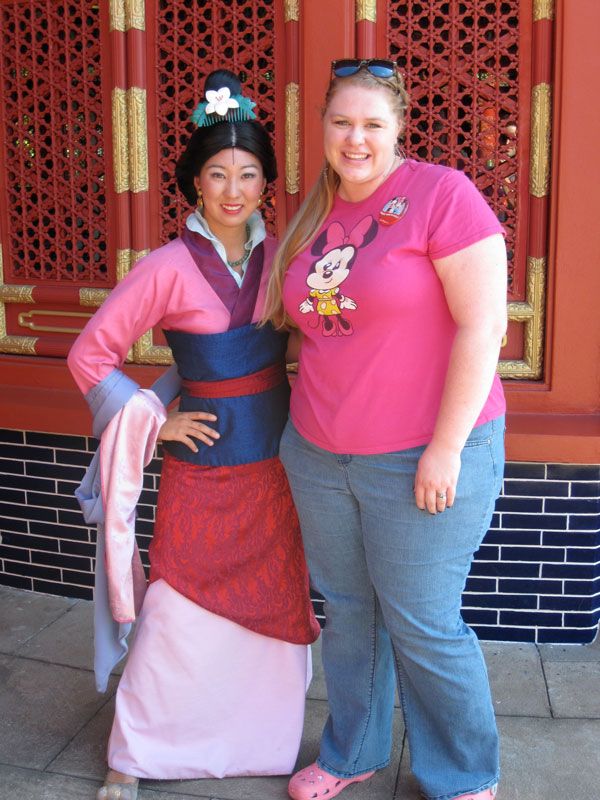 Then it was inside the gorgeous building for some AC and to enjoy some live music before the 360° movie. This beautiful Chinese woman played the "pi pa" and I just soaked it in. It was incredible.
The movie was fun too! But those 360° movies need to invest in some swiveling stools and let us all rest our tired feet!! Problem solved.
From China, we traveled to Germany! Josh took lots of German in HS and can still speak the language a bit. He also traveled there as a student as well. I thought it smelled weird in this pavilion, but Josh said that's actually how Germany smelled! I have no idea how or why the Epcot Germany smelled authentic, but Josh says it did!
The shop there was a crack up. They had all kinds of random stuff. I'm sure some of you saw this picture on my twitter account, but c'mon Epcot. Why do you sell these??
As I was taking this picture, some lady tourists speaking German were laughing about it too. Hearing actual German there was cool!!
By this time we were REALLY really hot and tired. We needed a break. So we used another snack credit for a real Italian cannoli from another Food & Wine Festival booth in Italy (soooo delish!!). Saw a tiny bit of the Italian pavilion, and then rode the ferry back to the World Pavilion main entrance. We were hoping we could use our Test Track fast passes and that it wouldn't still be broken down!! We didn't want to have to walk clear over there to find out it was still broken.
We walked over to Test Track and heard it running from a way's off so we gave a sigh of relief and kept on walking. Test Track was ok I guess, but I expected more. I thought it would be more like a roller coaster, and less of a test drive. The queue was a mad house!! It was like standing in a chaotic group most of the time and just hoping you got through to ride. The organized/planning side of my brain was having fits!! But oh well. It was fun. Especially the speed test part.
Tons of people told us we should eat at Seasons, which is the food court at The Mall. Oh uh er I mean "the LAND". After a little shopping and pin trading we walked all the way back to the Land and ate there. It was very good. I had some noodles and chinese food and a yummy strawberry shortcake. We wanted to get back to the Lagoon to get seats for IllumiNations so we didn't use our Soarin' fastpasses, but instead gave them to a couple ladies who were about to wait in the stand-by line. They seemed pleased, so we were happy to help.
IllumiNations. OH WOW. Incredible!!! We really loved it! Here's a video of the last minute and a half or so. We didn't photograph or video anything else from it. We just wanted to sit back and enjoy. Sometimes when you're too busy recording or photographing a show, you don't get to be as present and swept away by it.
And thus concluded our first day at EPCOT.
In general here are my feelings about EPCOT. I wish there was more shade and that things were closer together. It really kicked our butts. We went back to our room completely exhausted. I really thought (and hoped) I would be completely in love with EPCOT, but I have to say that wasn't the case. I liked it alright. In fact, I REALLY liked it. Especially the World Pavilion. I was excited to come back and experience the other half of the countries. But (this may seem REALLY silly and lame) but I felt like we accidentally walked through or sat down in EVERY smoking area in EPCOT. They are all positioned in pass-through places or outside of restrooms. It was really WEIRD. I don't know why they put them there. We ended up sort of laughing every time we accidentally found ourselves in the middle of smoking areas. I've never experienced that at any other Disney park. They were just poorly placed.
But there were plenty of thing we did really like about EPCOT, so it was a great day!! :)
If you're still reading this novel of a post, I applaud you. I went into writing this thinking I'd try and make it as concise and short as possible. But apparently I don't know how to be concise and short!! HAHA OH WELL!! Hope you enjoyed it.
Next up - (quite possibly my favorite day of the trip) Day 4 : Animal Kingdom and Mickey's Not-So-Scary Halloween Party!!
TTFN!