Well, our flight to Disney World left at 7 am so we were up at 3 to leave at 4 for the airport! When we got there we wanted to get put on a stand-by list for a better connecting flight, so we wouldn't have a 4 hour layover in Chicago. But the nice ticket counter lady just booked us straight on the flight - no standby needed! SWEET! A great way to start the trip.
When we landed in Orlando, the Magical Express airport shuttle from Disney World awaited us. We walked straight through and onto the bus, no need to get our luggage at the carousel, Disney would bring it to our rooms for us! Our bus was so cute. It looked like a Disney Cruise Ship! The video you watch on the bus on the way to the resort was fun too.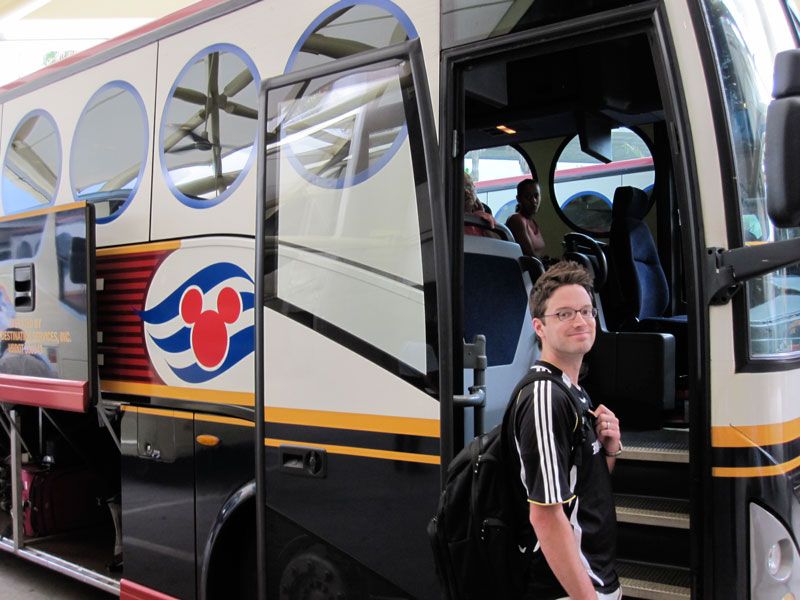 We stayed at one of Disney World's value resorts, Pop Century. We got the 70s area and we loved it! My parents were Disco King & Queen, so I grew up loving Disco. And the area was totally groovy!
The built-in twister spots cracked me up! We even saw some people playing it one day.
My favorite thing was the giant Mickey phone, which was right by our room. We had a phone JUST LIKE IT growing up!! I wish we still had it!
The whole resort was super cute. I'm dumb and totally forgot to take pictures of our room inside, DOH! But it was nothing exciting. Your average motel style room. Small beds, but it was clean and had a small amount of Disney decor.
So that night we basically just rested, had dinner at our resort's food court (meh - nothing exciting or especially delish) and explored the resort.
At night Pop Century has such neat lighting.
And that was it for our first night. We went to bed early because our next morning was an early one!
We caught the 7 am shuttle bus to the Magic Kingdom because we had breakfast reservations at Cinderella's Royal Table. That's the restaurant inside Cinderella Castle. We were in line and were the SECOND couple in the park! Josh hurried ahead and actually took the first step of ANY guest in the park that day!! Cool huh?
Main Street looked so cute all dolled up for Halloween.
Then we walked down a bit more and the CASTLE came into view. We both stopped dead in our tracks with our mouth hanging open. WHOA THAT IS A HUGE CASTLE!!!!!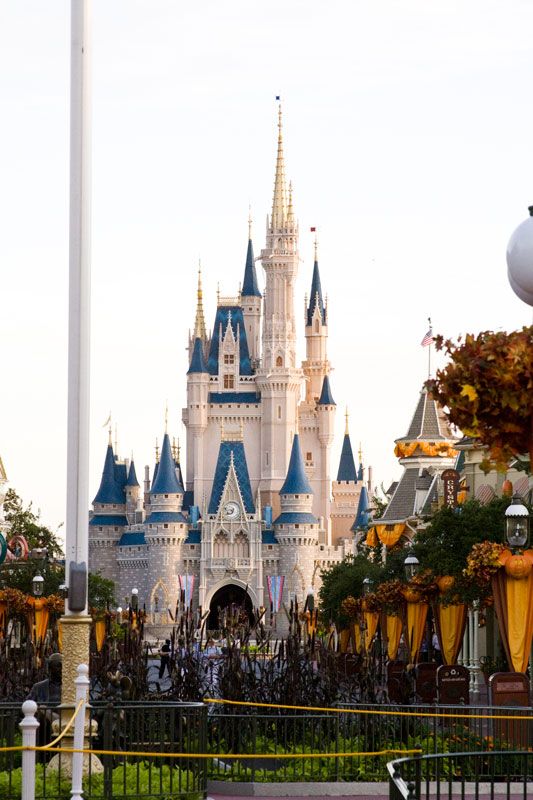 We got our anniversary buttons and still had plenty of time for picture taking and soaking in the magic before our reservation. To all those who recommended starting our trip off like this, we say a giant THANK YOU!! It was so amazing to get in before the masses and to just enjoy the beauty of the castle and Main Street with out any heat!!! We just LOVED this start to the trip!
Then it was time for our breakfast, we met Cindy and headed upstairs.
I'd tell people to try hard to get a reservation at 8:00 or 9:00 instead of 8:30 like us. We didn't get the best table, and missed most of the princesses formal introductions because we didn't come on the hour. After we asked to move to a better table, I was happier. And of course we still got to meet all the princesses and take part in the special wishing ceremony, but I think going on the hour, would have been even better. I would have loved a table near the window, looking out over Fantasyland.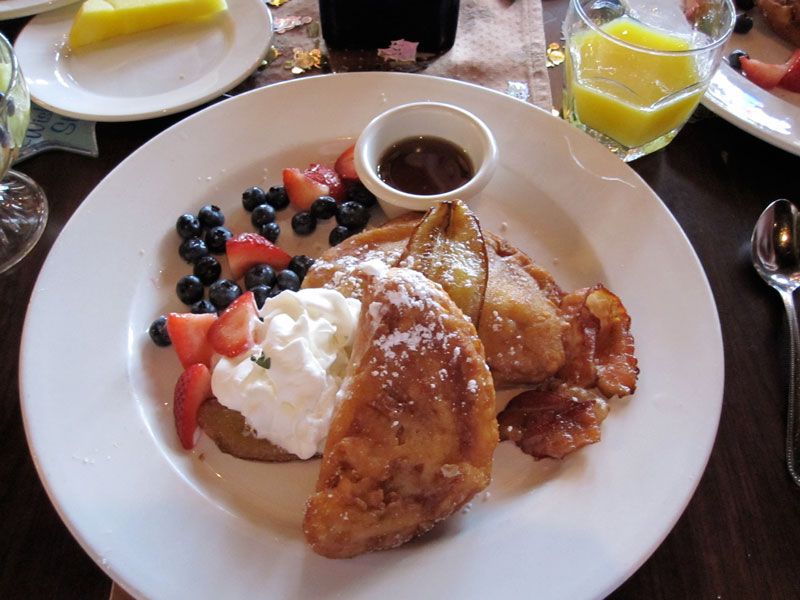 BUT all that aside, we had a GREAT time. Seeing all the kiddies meeting princesses was awesome and our french toast was YUMMY! And they kept refilling my OJ again and again. YUMMMMM If you're on the dining plan, Cinderella's Royal Table takes two table-service credits, but it was totally worth it! We got free souvenir photos of us with Cinderella printed up before we left, brought right to our table. I totally give Cinderella's Royal Table two thumbs WAY up.
So - after breakfast, we headed for Haunted Mansion. It's one of my favorites at Disneyland, and I was excited to experience the Magic Kingdom's version. The Mansion is SOOOO different. I like it. The ride itself is quite different too. I mean, it has lots of scenes identical to Disneyland's, but there are also lots of different parts too.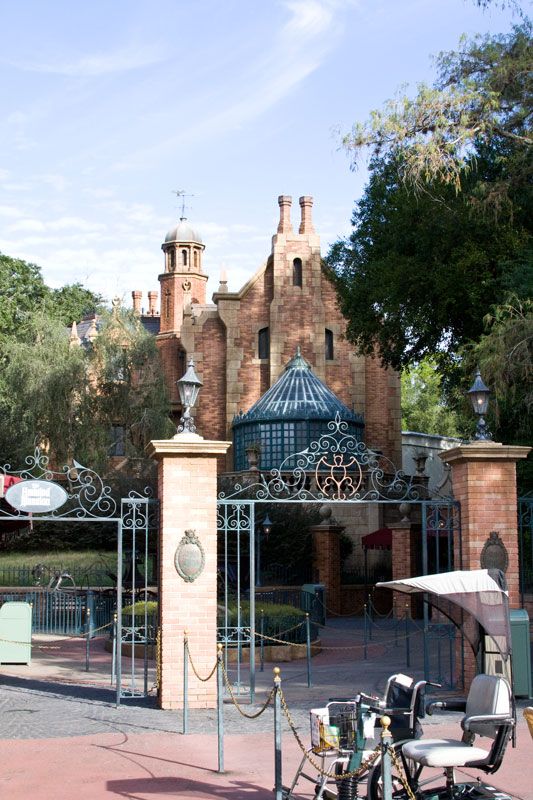 After that we thought we'd walk over to Tomorrowland and knock that out. Sorry WDW, but your Buzz Lightyear ride doesn't even compare to Disneyland's. WDW's guns are connected to the vehicle, the targets aren't as fun. In general we were pretty bummed by WDW's version. We normally ride Buzz NUMEROUS time at Disneyland, but one time was more than enough at WDW. But after Buzz, we went to the Monster's Inc. Laugh Floor and that was a TON of fun!! We laughed hard and actually went back a second time later on in the trip, we liked it so much.
One thing WDW's Tomorrowland has that I wish we had at Disneyland is the TTA (Tomorrowland Transit Authority). Otherwise known as the People Mover. Riding that was so much fun. I pray they bring it back to Disneyland some day!
We had pretty much no wait times on anything we'd ridden so far! It was a great day weather-wise too. Not nearly as hot as the day before. It turned out to the be the ONLY cool day we were there.
After Tomorrowland, we saw the "Dream Along With Mickey" show in front of the castle. It turned out to be one of my VERY favorite things at Magic Kingdom. I just loved it!! The animated character faces were amazing! The characters eyes open and closed and their mouths open and close as they talk! I've never seen anything like that before. And the whole story line was adorable.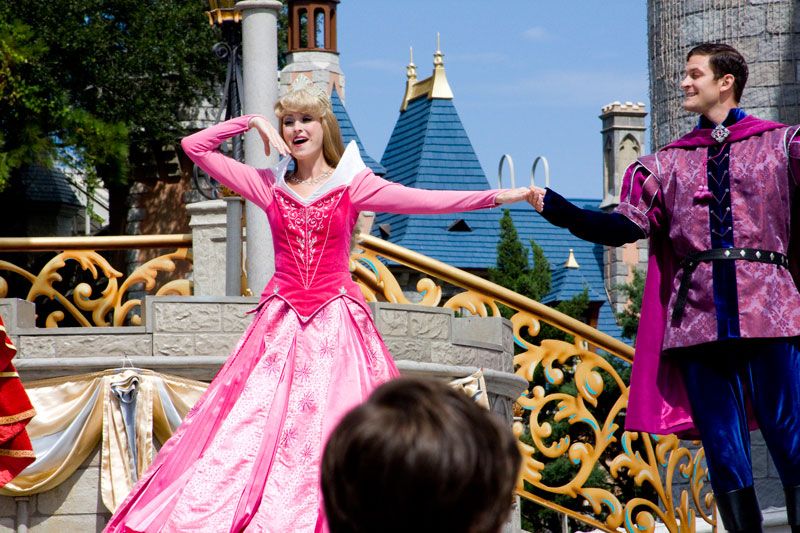 After the show we headed to Big Thunder and Splash Mountain. We got fast passes for Splash and just as we were about to get on Big Thunder, it broke down, so we rode the train 'round the park. I swear WDW's train is WAY BIGGER than the train at Disneyland. When it pulled into the station I was like WHOA!! That's a big TRAIN!
By the time we got back, it was time to use our fast passes, so we rode Splash Mountain. I liked how I got to sit next to Josh instead of single-file like at Disneyland! That was fun. But, holy cow, the sprayers that spray you directly in the face at the bottom of the big hill!! You don't even have a chance of staying dry!! HAHA And the dumb guy sitting in the back reached into the water to splash the lady in front of him and ended up giving me a nice shower of water down my back instead! NICE. Thanks rude stranger. But oh well, I was wet anyway.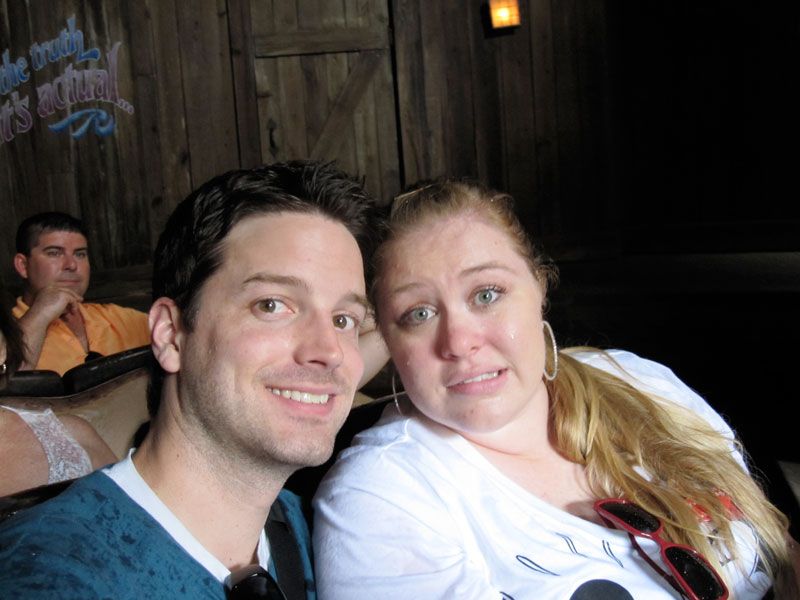 After that we had lunch at Pecos Bill's (yummy burgers!!!) and then grabbed a spot for the parade. The parade was ok, but I wasn't in love. It was fairly short too. The music was pretty cute, but . . . meh. I usually LOVE parades, but this one didn't quite do it for me.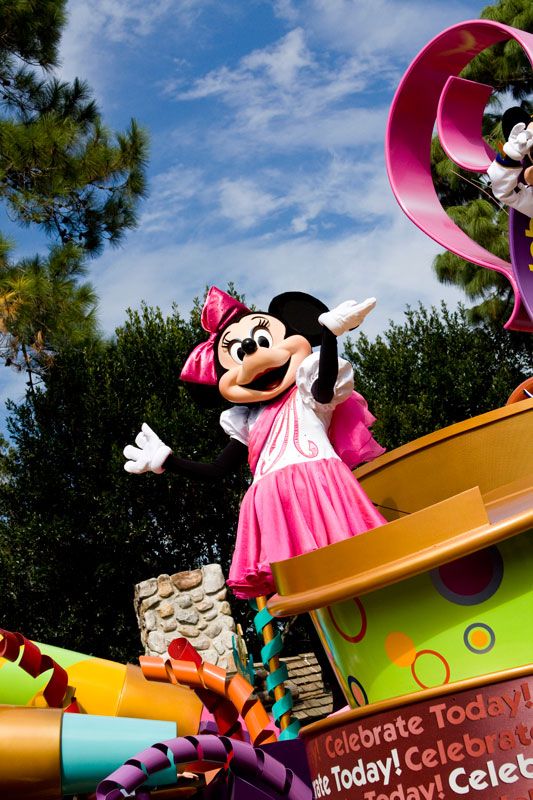 After the parade it was time for the "Country Bear Jamboree". I grew up with this show at Disneyland, and thought it would bring back some nostalgia and memories.
zzzzzzzzzzzz . . . oh my word! We were so bored!!! And what's with the "blood" song at the end?!?! HAHAHA Josh and I joked and sang it to each other for a chuckle the rest of the trip!
Then we were off to Adventureland. WDW's Adventureland is a LOT bigger than Disneyland's, and sort of spread out. There's not a TON more to do than Disneyland's, except the Magic Carpet ride, which was pretty fun, but no more fun than Dumbo (which we never did ride at MK because of the GIANT LINE).
Pirate's of the Caribbean was fun. Much shorter than Disneyland's version, but still fun. The queue for it is pretty cool. Very fancy and grand.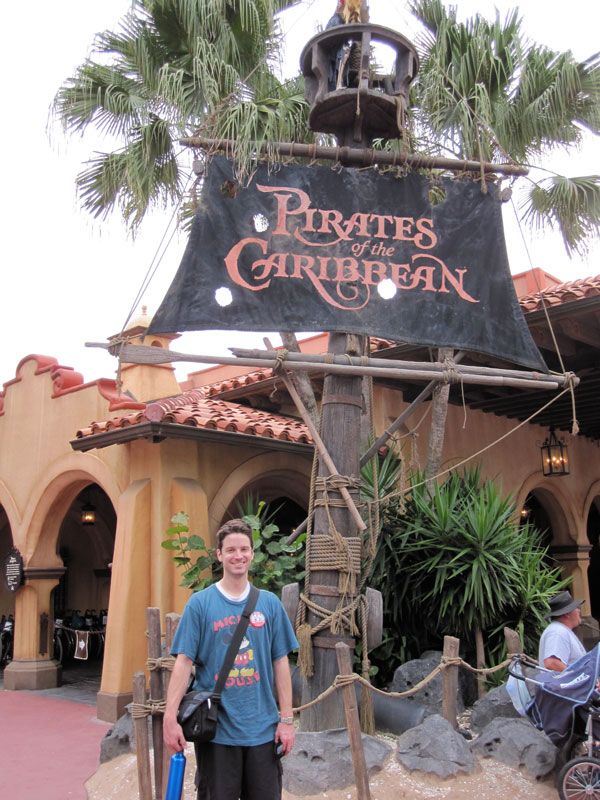 When sun went down and the lights started to come on, we plopped our tired butts down for seats for SpectroMagic and Wishes fireworks.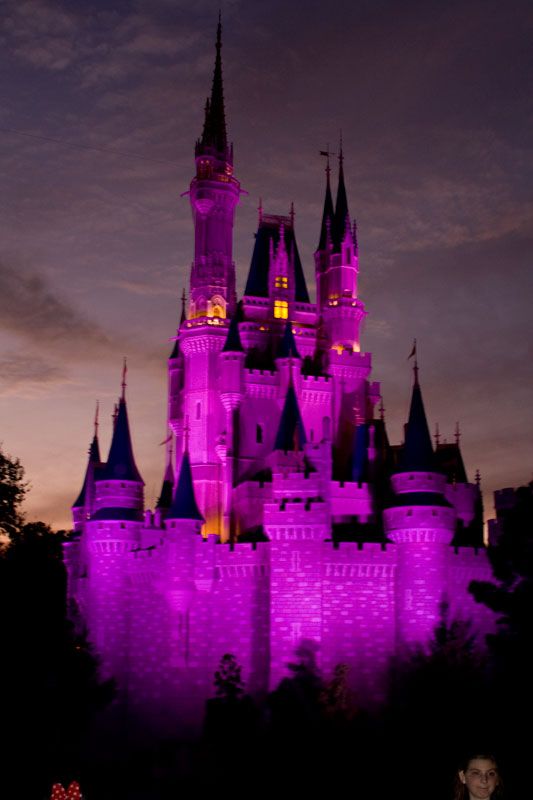 The crowds weren't too bad, they looks worse in this picture than they were.
We made the mistake of sitting too close to the castle, and most of the fireworks were blocked behind the castle (rookie mistake) but its very similar to the "Remember. . . Dreams Do Come True" fireworks at Disneyland so we were ok. And we had an excellent view of Tinker Bell flying.
SpectroMagic was magical. I loved the music and the crazy cooky characters. What a fun parade!!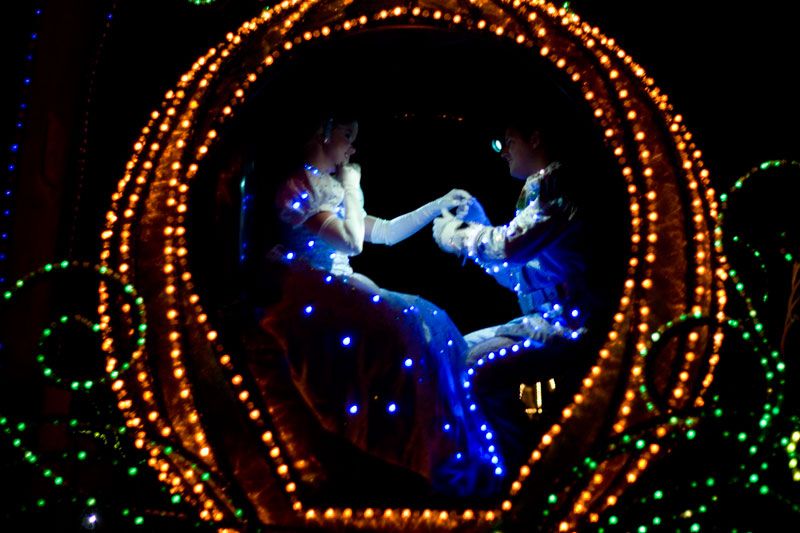 Very hard to photograph though. OH BTW - I was so hot and tired most of the trip, that I couldn't get my photo mojo going to take many pictures AT ALL. We have Josh to thank for most of these wonderful photos!!
And that ended our first big day in the park! We really loved Magic Kingdom and were surprised how much magic we'd experienced in one day. Being a tiny bit skeptical of WDW in general, being the faithful DisneyLAND people we are, we were happy to find some of the same Disney magic on the other side of the country as well.
Now if only we would have gone in January and skipped the awful heat and humidity . . .
Up next . . day 3 at EPCOT. (these posts take a while, so maybe tomorrow night? We'll see!)