Ok! I FINALLY made time to post about our next day at Disney World!! If you can't remember that far back, the last post I did was about
Day 3 of the trip
at Epcot. We came back to the hotel SO EXHAUSTED, hot and tired from
that
day, we were really worried about having enough energy to do both Animal Kingdom (AK) and Mickey's So Scary Halloween Party the next day. But my twitter followers assured me that AK was smaller than Epcot and we'd be ok. That put me at ease.
A random dude saw us trying to take a self-portrait of us in front of this great main gate sign and offered to take our picture for us.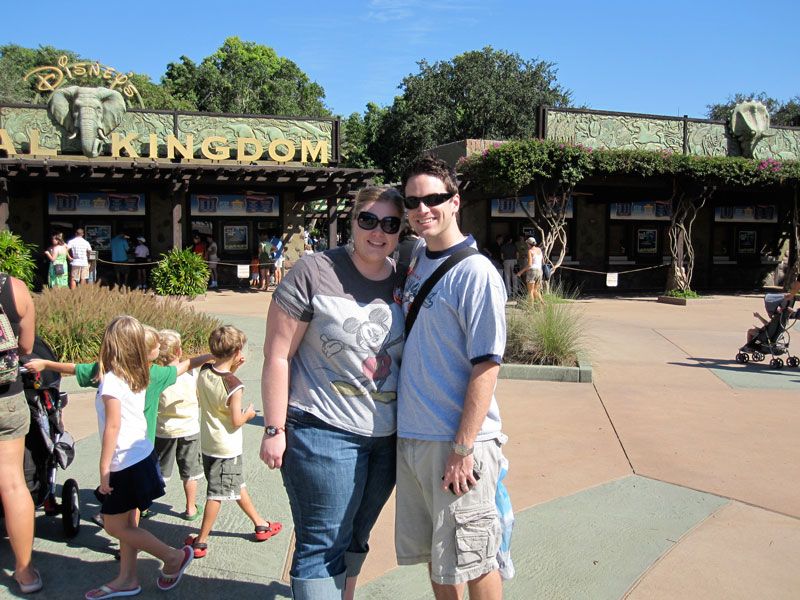 Ummm . . . thanks for offering dude, but you totally MISSED the whole sign! haha!!!
After we got inside, had a potty break, figure out the locker situation so we could store our Halloween costumes for later that night, found a map, we were on our way to the Kilimanjaro Safari.
I LOVED the signage at AK. Josh thought this pic was so hilarious because this lady just stood there and stared at him taking a picture.
Another great sign . . .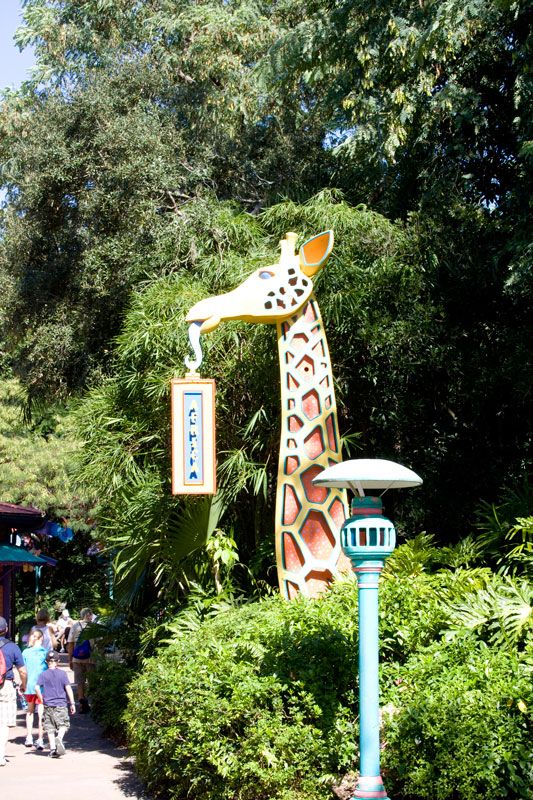 One of my favorite areas was the Harambe Village. It really felt like all of a sudden we'd walked into an African village!! There was a loud African band playing and it just felt so authentic! I really loved it. The picture did NOT capture how cool it was at all!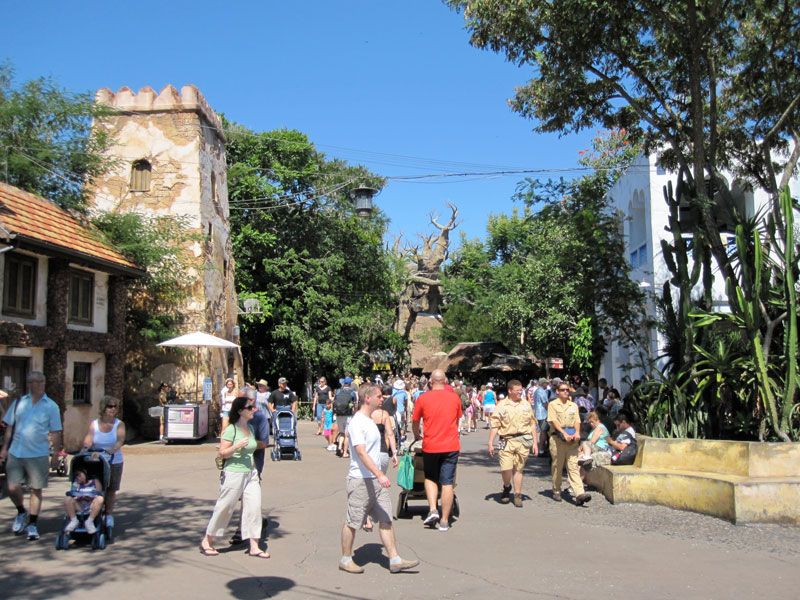 The line for the safari was pretty long, 30 or 40 minutes I think. So, not crazy long, do-able. The safari is pretty far back in the park, and we weren't about to walk all the way back there later in the day with a fast pass, so we just had to wait.
But our 30 minute wait quickly turned into an hour wait because one of the trucks broke down. So we were all just sitting there in line waiting to start moving again. Luckily the line was shady and cool. This was my reaction to the announcement of the broken down truck!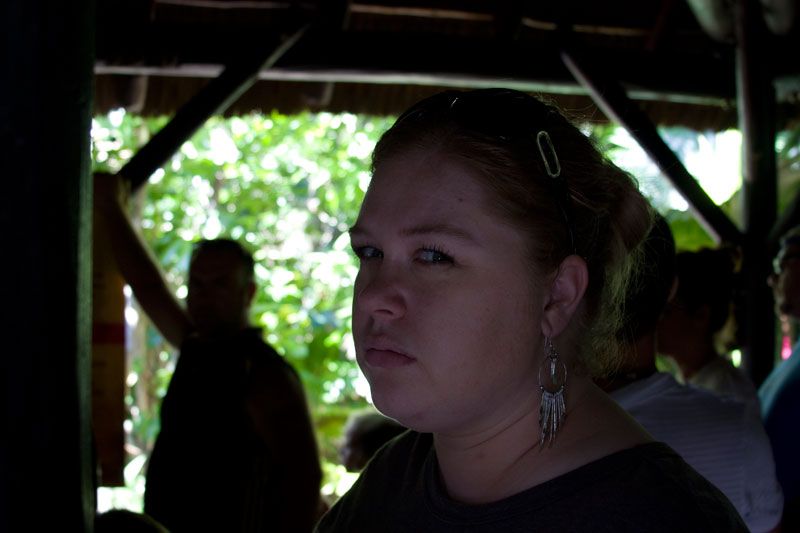 hahaha! We made friends with the lady in front of us in line. She was a local Floridian there all by herself celebrating her birthday and having a great time. She was very chatty, but very nice. And our long line gave us lots of time to look at the park map and make a plan for the rest of the day. We made sure to make the most efficient and concise plan so as to not put more strain on our feet than was absolutely necessary. Taking the time to make this foot-saving plan ended up helping a LOT!
FINALLY we got to go on the Safari.
Josh took pictures, while I attempted to video. But it was so bumpy, NONE of the video turned out. Sorry!!! Nothing worthwhile to share video-wise. But Josh got some incredible photos. I could NOT believe the animals we got to see! So many incredible animals you never get to see at your average zoo!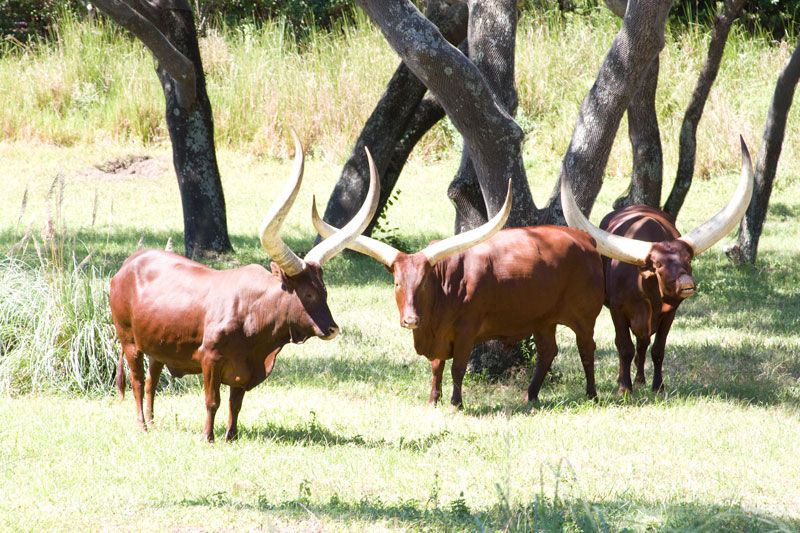 Look at the size of those horns!!!! It looks fake! How could those enormous horns actually grow out of that animal!!!
Wildabeasts! Just like on Lion King.
And a Pumba!
Awesome. Some animals (including Rhinos - yikes!) got pretty darn close to our truck! It was such a fun experience.
After the safari, we started walking toward Flame Tree Barbeque. We asked my twitter followers for lunch recommendations and everyone told us to eat at Flame Tree. So, that's where we were headed. Taking time to enjoy our surroundings. At this fun drumming spot for kids, we realized there was a great place to take a pic with the awesome Tree of Life in the background.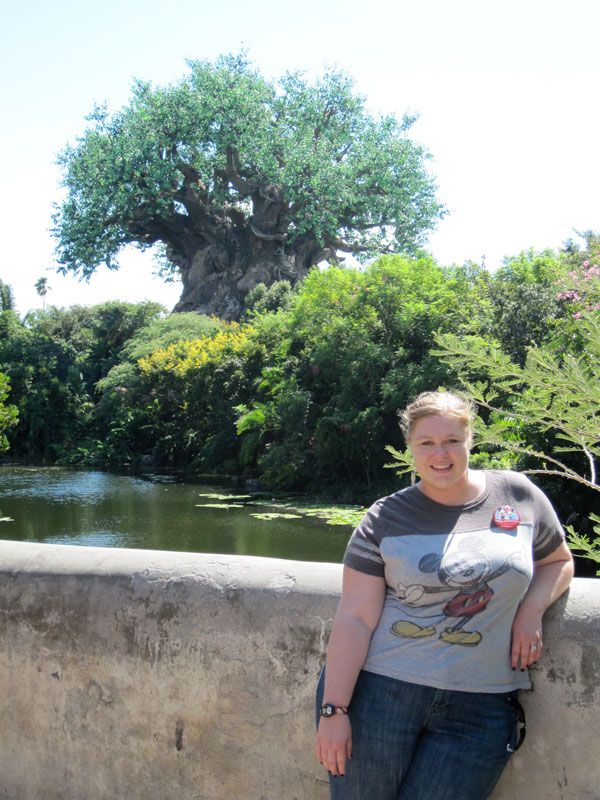 We asked a passerby to take our pic. She BARELY got the tree in the background. So we lucked out! hahah
This is possibly my favorite photo from the whole day. Josh snapped it as we crossed the bridge. Doesn't it look like we're totally in Africa, on the Nile river or something?? The details at Disney are always impressive.
We made the mistake of going to lunch during the peak lunch hour and the line took FOREVER. But it was totally worth it! It was soooo yummy!!!! Totally awesome recommendation.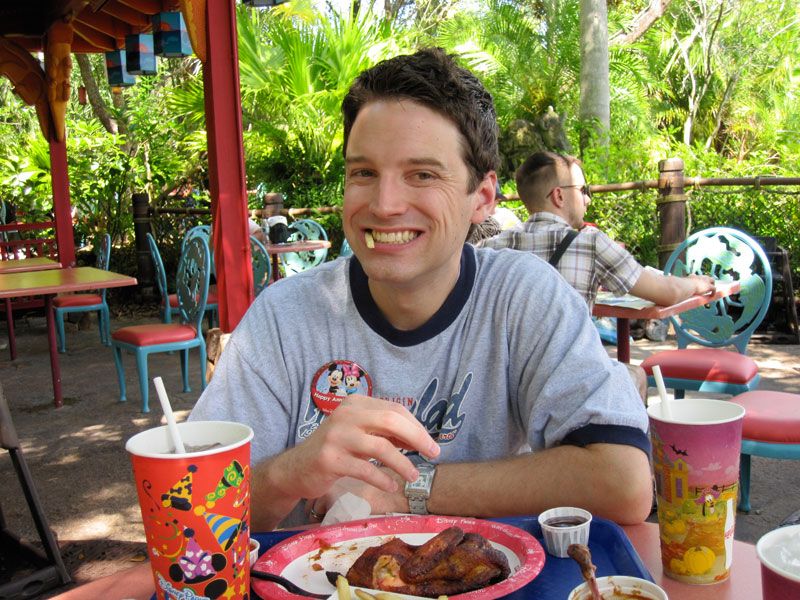 And the seating area down by the water was quiet and calm and beautiful. We had a really nice lunch.
With food in our bellies and rested footsies, we started walking for Expedition Everest. As we kept walking and entered the Tibetan/Nepal area of the park, I was lovin' it!! That's one part of the world Josh and I both
really
would love to see someday. So seeing Disney's version was a thrill.
The shops, the little food carts, it was all themed so perfectly. I was really enjoying AK! The tall trees everywhere made it so much cooler than the other parks! And things didn't seems to be as spread out.
The line for Expedition Everest was 45 minutes, so we decided to get fast passes, go see the Finding Nemo Musical, and then come back to ride.
We didn't take any pictures of the Nemo musical, instead we decided to just sit back and enjoy. Like I've said before, sometimes its just worth it to relax and enjoy the show instead of trying to document it. Besides it was dark and I'm not sure the pictures would have turned out anyway!! I'll borrow some pics from the internet to scrap the memories!! HAHAH
But let me tell you what I thought about the Nemo musical.
I LOVED IT!!!!
I could cry right now thinking about it. I REALLY REALLY loved it. It was the most fun. The kids all around us just loved it too! I really wish we had that at Disneyland so I could see it again!! If anyone goes to Disney World, don't miss this show!!!!!
After the show, our feet were feeling nice and rested. We walked back to Expedition Everest and used our fast passes. What an amazing RIDE!!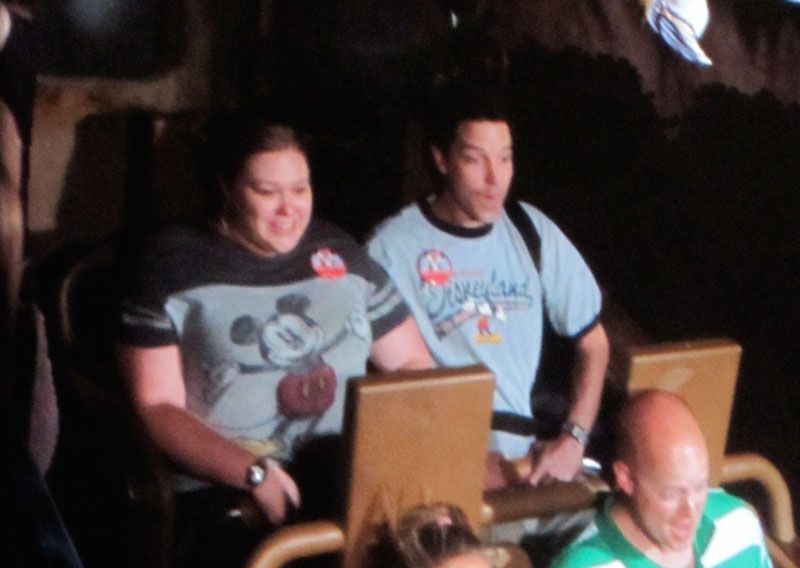 We took this picture of the picture the ride takes of you as you head down a huge hill. Those are such genuine reactions we're having. That ride is just full of surprises. We just didn't know what to expect. It was so fun!
In fact, we liked it so much, we went got in the Single Rider line and rode it again right away. And it was SWEET because the Single Rider line only took about 5 minutes!! Its not as fun not to ride together, but it was worth it for a 5 minute wait!! I rode with a very nice older gentleman who was riding for the first time and had waited a LONG time with his group to ride it. I told him about the Single Rider line and he said they were going to do that next!
Josh took this pic from his single rider spot in the front of the train of me waiting for my spot in the back of the train! haha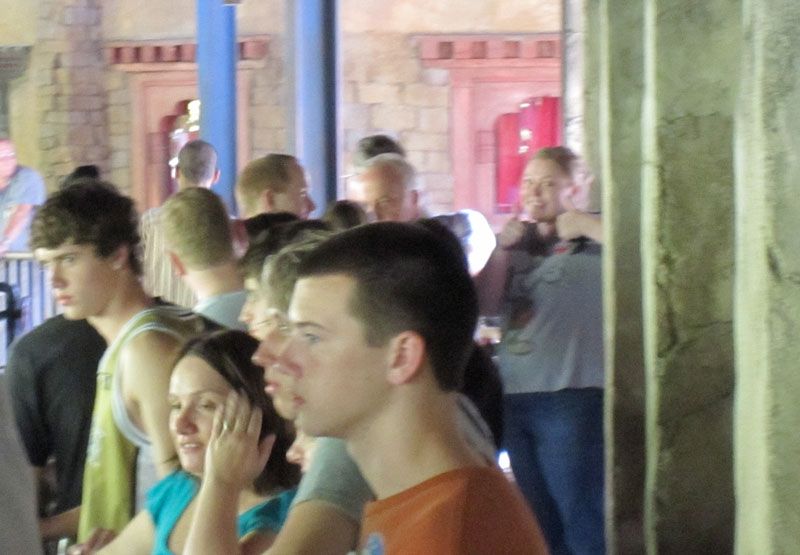 Let's see . . . after Expedition Everest, we went and snagged awesome shady spots to watch the parade. I really enjoyed this parade. It was so cool! The puppetry and costumes totally amazed me! SO COOL!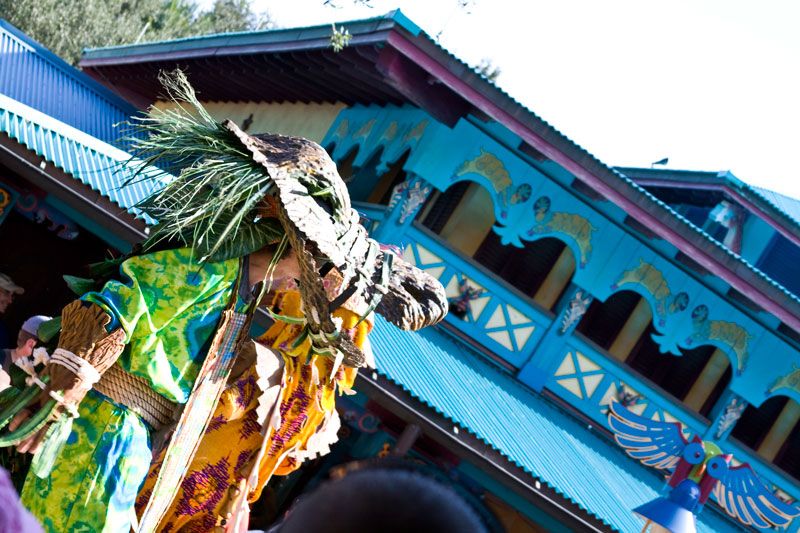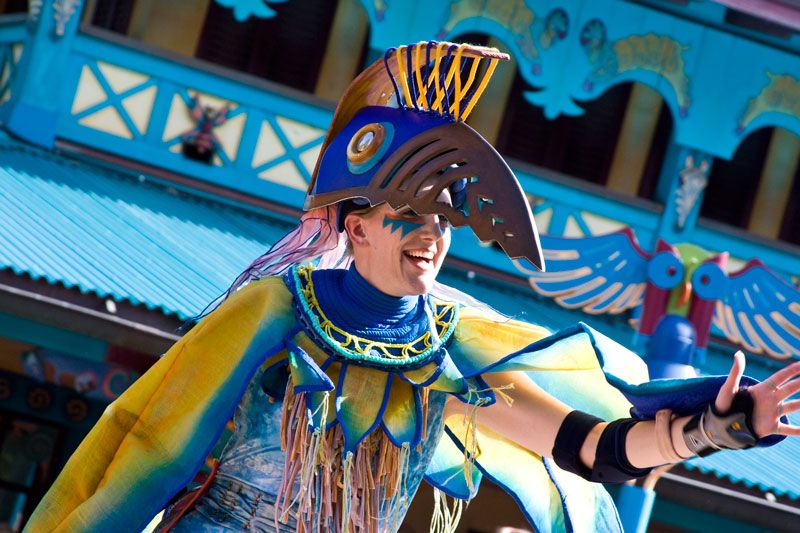 I LOVED how there were park guests throughout the parade! That was so fun. And I was jealous!! I wish I could have been in it! Lucky people!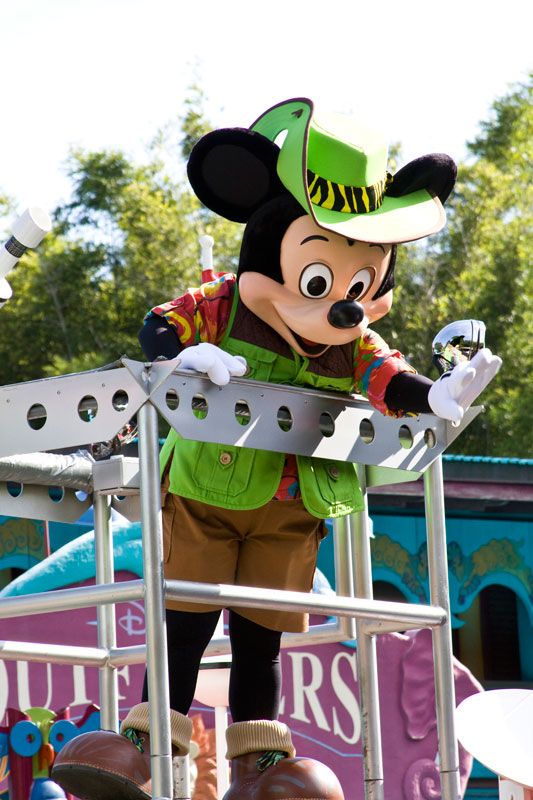 Mickey and all his pal's floats were totally adorable!
After the parade we went to Dinoland to ride Dinosaur. There was hardly any wait, which was awesome. One of my former Britt Girls, Emily, was actually a Cast Member working on this ride, so I was searching for her everywhere! But we got on the ride, and I still hadn't found her.
Dinosaur was fun. The ride vehicle are just like those on the Indiana Jones ride at Disneyland. Very bumpy, loud and fun. I couldn't believe how loud that Dinosaur at the end was where they take your picture. It was INCREDIBLY loud. I was so impressed by the tiny little kid who was riding in front of us. She was very brave!
I never did find Emily!! I think she was on break or something! :( Total bummer. So sorry I missed you Em!!
And that was pretty much the last thing we were able to do before the park closed. We took a nice shady stroll out to the shuttles. We were pleased to find out we could transfer our locker fees to the Magic Kingdom for the Halloween Party, and didn't have to pay for an all-new locker rental.
But before the party, we were headed to the Animal Kingdom Lodge for dinner at Boma! We got there a tad early and got to relax and enjoy the resort. AK Lodge was the most beautiful, incredible place. In a way, we sort of wished we'd never seen it because it really made Pop Century (where we were staying) look like . . well like a much cheaper motel! Which it is! hahaha!
AK Lodge was just so amazing. We were totally walking around with our mouths hanging open! I mean, there were GIRAFFES eating off of trees right outside off the balcony. The place is incredible.
Here I am sitting in the comfy lobby chairs twittering!!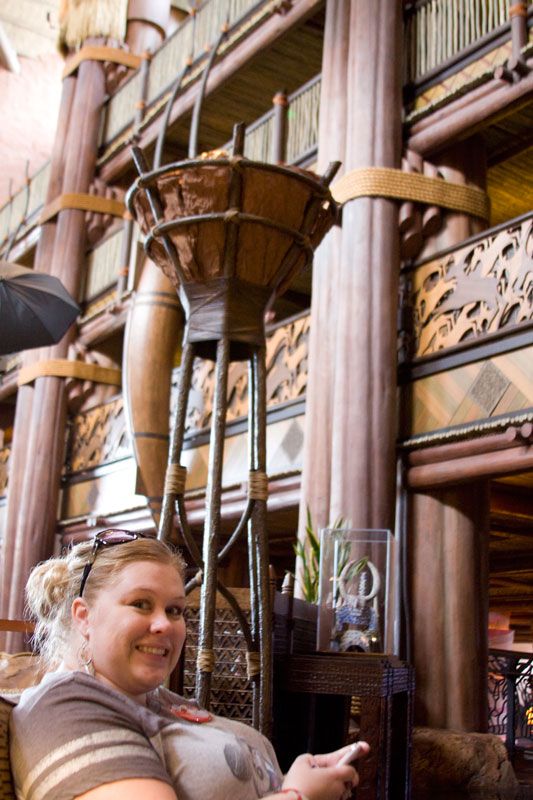 And my cute husband.
After some relaxation in the lobby, it was time for our dinner reservation at Boma. Boma is an African buffet. We had quite a few people recommend it to us and we're glad we did it. It was DELICIOUS!!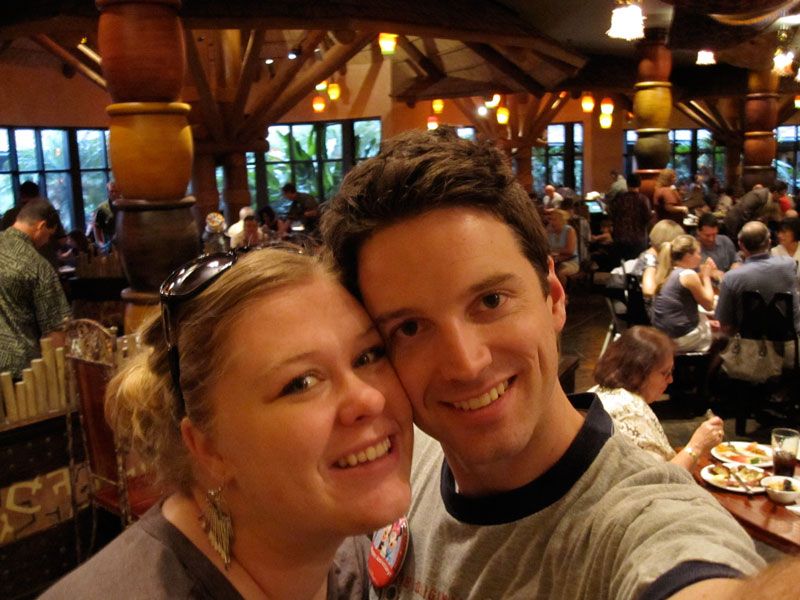 And the pastry chef made us a special little platter of treats. There were some odd things here, with definitely unique flavors. But we felt special getting a little plate made for us.
After that, we took our costumes to the AK Lodge restrooms and got changed for Mickey's Not So Scary Halloween Party! But that's got to be another post . . . I've just spent about 2 and a half hours on this post!!! Takes a lot of time to resize the photos, write it up, get the photo codes in. It's just time consuming!! But I do love sharing our trip with you all.
Hopefully you enjoyed reading about our day at AK. I will definitely keep writing these re-caps!! Sorry they are so slow coming! That's all from me for today!