Hello there!! We are moved back into our house, although we are far from being completely "moved back in" to our living room/dining room/my office. But, the floors look sooooo perrrty.
I did manage to get some work done tonight, FINALLY! The Grab Bag items are now divided up &
in the shop
. AND I'm very excited to finally be kicking off our May Flashback sale & challenge. (Sorry its late this month!!)

This month our featured kit is one of my FAVES:
"Galactic Alliance"
Now, if I was really on the ball, I would have had this Flashback all ready to go on Star Wars Day, May the Fourth. But of course, inspiration for that idea struck a little too late. But can we just pretend I'm that awesome and clever?? haha!
And of course, you can still download the little add-on freebie if you don't already have it:
[DOWNLOAD HERE]
Check out some of these new pages my Britt Girls have scrapped with "Galactic Alliance":

Feeling inspired? Well, then its a good time to roll out this month's Flashback Challenge!
Create a layout using any of the Mermaid Lagoon featured products before April 30th, and post it in the
Britt-ish Designs Challenge Gallery
. Then come back to this post and paste a link to your layout in the comments. At the end of the month I'll do a random drawing for 1 winner of a
$15 Gift Certificate
to my shop. No matter when you purchased
"Galactic Alliance"
- today, last week or last year - just use it to create a layout and enter it to win!!
*IMPORTANT NOTE* When you want to link to one of your pages in the Britt-ish Designs Gallery, you need to click on this little icon to make sure that "Display File Information" is on.
Then, below your credits, you'll see the File Information. Use this URL when linking up your page.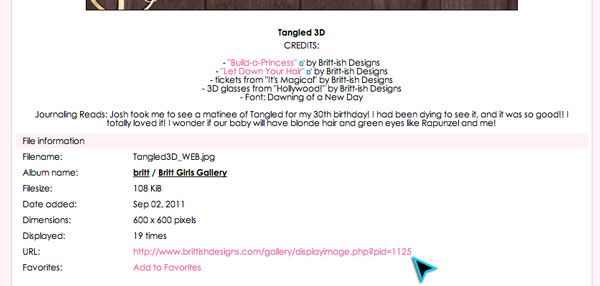 You can't just copy and paste the URL that's at the top of your browser window! It won't work.

One more note. I know some people have had trouble in the past with the gallery. But all problems were solved by simply trying another browser. My gallery and Internet Explorer don't get along. So, if you're having trouble seeing where to Register, Log In, Upload, or Comment - just try using a different browser (like Firefox, for example) and you shouldn't have any trouble.
And of course, we can't sign off without announcing the winner of last month's Flashback Challenge . . . our lucky randomly drawn layout was:
Shanell's "Birthday Party Invite"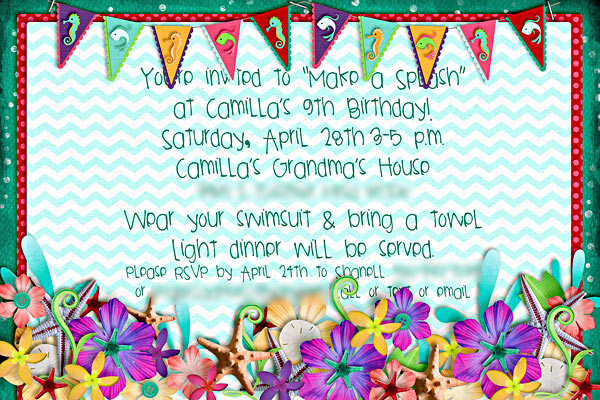 CONGRATS, Shanell! I'll email you your $15 Gift Certificate right away.
There were a few more entries in April than there were in March (8), but still, that's not so many that you don't have a great chance of being that lucky winner. So - what are you guys waiting for?? Scrap with "Galactic Alliance" and enter!
Ok - here's to a fantastic week!! Scrap lots.